Buscar por Características de la cámara
Diapositiva {CURRENT_SLIDE} de {TOTAL_SLIDES} - Buscar por Características de la cámara
About DJI Phantom 3 Advanced
Showing slide {CURRENT_SLIDE} of {TOTAL_SLIDES}
Easy to fly.

Your Phantom 3 makes flying intuitive and easy. From takeoff to landing, it's completely under your control, responding to commands while automatically handling the most complex aspects of flight.

GPS-assisted hover.

Never lose track of your Phantom 3. It is aware of its location in relation to you. Through the DJI Go app, track its location and record your takeoff point so you can bring it back to you with the tap of a finger.

Vision positioning system.

Your Phantom 3 literally helps you fly. It processes information from every sensor and completes complex calculations in real time, giving you a worry-free flight experience.

Unmatched propulsion.

Brushless motors work with fast ESCs to help your Phantom 3 speed up, quickly increase or decrease altitude, and stop.
eBay has provided more information about this product above and is not affiliated with or endorsed by DJI.
Price Trends
DJI Phantom 3 Advanced - Price Used
Used Price*
from $385 to $494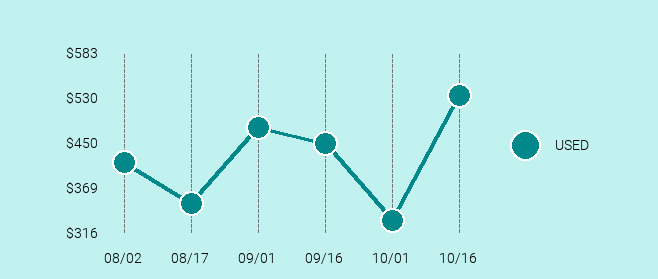 *The average sold price is calculated based on "Buy It Now" items sold within the 90 day period described above (excluding shipping and handling). Each interval represents a 15 day period. There is no guarantee that items will always be listed at a price within the provided range.
Compare Similar Models
DJI Phantom 3 Advanced
Camera Type
Interchangeable Camera Drone With Camera
Video
2.7K@30fps, 1080p@60fps
Image Stabilization
3-axis Gimbal
Maximum Video Bitrate
40 MBPs
Showing slide {CURRENT_SLIDE} of {TOTAL_SLIDES}
Essentially all you really need...

Here are the essential features--in my mind--of this drone that led me to designate it as best value for the money. In no particular order... 1) Speeds up to 38 mph with no discernible wind. 2) Range over 3.1 miles with no obstructions (trees, houses, buildings, etc). 3) Excellent agility. Turn on a dime, and then shoot straight up, stop and then zoom to somewhere else all with excellent control precision. 4) A respectable 23 minute flight time. 5) Dual GPS/GLONAS satellite systems for a whopping 15-20 satellite connection value. 6) Lightbridge technology for high throughput live video feed transmission of up to 2.7K 30fps. 7) Optical/Sonar sensing system underneath for altitude control when 3D satellite lock unavailable. 8) Multiple function modes. But just the essentials like Point of Interest, Follow Me, Course Lock, Home Lock, and Way Point. I think that the additional 5 functions only seen on things like the Mavic Pro and the P4 Pro are a bit overrated. When would you want to take a picture by gesturing only without having the controller on hand??? For $450-$650 or so used or like new, you can get all of these features and more. It will definitely be more than sufficient for pretty much anything you'll ever want to do with a drone. Furthermore, if this is your first drone like it is for me, then you are definitely starting out with a pretty ADVANCED piece of equipment here and will not be disappointed. I will suggest buying the following accessories: controller lanyard strap an extra battery (maaaaybe two) a carrying case parabolic windsurfer antenna reflectors and maybe consider getting the carbon fiber blades #9450 I haven't yet experimented with camera filters for certain light conditions, but I will soon. And by the way, for a significant price increase to the P3 Pro, all you get is the 4K camera. 4K is cool and all, but is not worth the price hike in my opinion. If you know your way around ISO, shutter, white balance temperature and so forth, you can get some stunning excellent high quality video and photographs with this beast. Enjoy!

Verified purchase: Yes

A great product

For the price i got a better phantom 3 advanced. Oh my, it flies awesom! Already have gone 21,000 feet. Over 4 miles.would buy another one if i ever need it. Trueblue is a honest man. You get what you order. Thank you so much. Ray Estess

Verified purchase: Yes

Fun to fly

Easy to learn how to fly. The return home feature is essential. I lost sight of it pushed the Return to Home and it came right back. The camera is amazing and so are the videos.

Verified purchase: Yes