About Ultimate Ears BOOM
Showing slide {CURRENT_SLIDE} of {TOTAL_SLIDES}
Full, balanced sound.

Dual performance drivers pump out clear mids and vibrant highs.

Get dirty. Rinse. Repeat.

UE BOOM has a versatile, go anywhere shape that makes it as spontaneous as you – it brings the music, you bring the friends.

Life resistant.

Colorful acoustic skin with plasma coating makes UE BOOM water and stain resistant.

Go anywhere shape.

Stand it up, lay it down, stash it in a cupholder, or even clip it to your backpack. UE BOOM lets you bring your music just about anywhere.
eBay has provided more information about this product above and is not affiliated with or endorsed by Ultimate Ears.
Compare Similar Models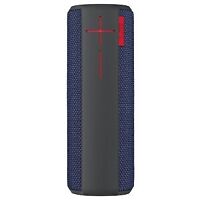 Ultimate Ears BOOM
Connectivity
Bluetooth 4.0, NFC, 3.5mm Audio
Battery Capacity
Unspecified
Simultaneous Connections
2
Showing slide {CURRENT_SLIDE} of {TOTAL_SLIDES}
Ultimate Ears BOOM 2

Connectivity

Bluetooth, NFC, 3.5mm Audio

Battery Capacity

Unspecified

Simultaneous Connections

2

Ultimate Ears Blast

Connectivity

802.11a/b/g/n Wi-Fi (2.4/5 GHz), Bluetooth

Battery Capacity

Unspecified

Simultaneous Connections

1
Top 5 High ratings
Top 4 Low ratings
UE Boom Review

I had purchased one of these for my Wife a few years back at a regular retailer. It was quite expensive at the time., Recently my Sirius Radio broke down but I have the app on my phone. I began using my Wifes UE and then decided to check on line and found this refurbished on at half the cost of what I paid for my Wife's., I almost bought some of the other less expensive ones that are available but I am glad I went back and searched for the UE. This is now one of the best values and pieces of electronic equipment I have bought recently and would buy another one and refer friends to the do the same!!!

Verified purchase: Yes

Excellent Speaker

Worth every penny. This is the second one I've purchased (you can link them via the UE Boom App and use them in sync) The sound is fantastic, bluetooth connection is solid, also has headphone jack for hard connection. The water resistant/sand resistant, "life-proof" features are great, we take them to the beach, on vacation, etc with no worries. The new version supposedly has even higher weatherproof rating but I've never had an issue with this one and have definitely put it to the test.

Verified purchase: Yes

UE Ultimate Ears Boom Wireless Bluetooth Speaker

The UE Wireless bluetooth speaker is a very good value with even better sound quality. Setup is nothing more than opening the included case, taking the speaker out, pressing the power button, then press the pair button. Just a few seconds and you can listen to high quality sound from your phone or other bluetooth device. The price is low enough that you can afford a second speaker and pair both of them for even better sounds. If that's not enough, it's even water proof!

Verified purchase: Yes

Great Bluetooth Speaker

After my nephew recommended this speaker to me and let me listen to his, I was totally impressed with the sound quality as well as the volume, without crackling, it was able to produce. I found a pair of refurbished ones for a great price. I am totally satisfied with them. They are great for the garage when I'm working on the cars and just as great for my office. The UE app is easy to use and I love the way they can be paired in stereo mode. I would recommend these to anyone.

Verified purchase: Yes

The UE Boom is a great, durable, speaker that I just bought.

The UE Boom is a great, durable, speaker that I just bought. I have tested it many times and have come to a conclusion that the sound quality is quite good. The bass could be better but if you're looking for a durable, sturdy speaker then the amount of bass is just right. The music is very load and can fill a large room for a party with no hassle at all. There's an eq on the ue app, so you can change the levels to satisfy your needs. All around its a good Bluetooth speaker that is perfect for outdoors and pool parties

Verified purchase: Yes